Get Covered from Cool Fall Rain with a Hi Vis Rain Jacket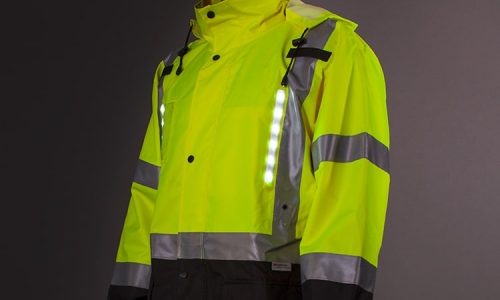 With the last day of summer past us and another cool fall on its way, workers can stay comfortable on a jobsite while also staying safe with the Hi Vis Rain Jacket from Nite Beams™. Fall rain can chill to the bone, especially when a strong breeze picks up alongside it, but construction workers, law enforcement, traffic workers, and more can be better protected from the elements while also feeling more protected thanks to the effective design that Nite Beams™ has to offer.
Protection and comfort come together
When you invest in personal protection equipment from Nite Beams™, you invest in equipment that brings safety and comfort together for workers. The Hi Vis Rain Jacket from Nite Beams™ not only offers Super Bright LEDs 3M Scotchlite reflective silver tape that give workers an incredible amount of visibility during low-light conditions, but they also are crated of a breathable fabic with polyester and taffeta lining to give the wearer a more comfortable experience while they work outside. The magic behind Nite Beams™ products is the hands-off safety that they provide to you for extended periods of time with little to no effort while also keeping you comfortable against the elements when needed.
Hi Vis Rain Jackets keep everything dry
With stitched and taped seams that provide you with full waterproof protection, you can be sure that the Hi Vis Rain Jacket will keep you dry while you work. Each jacket also comes with two front waterproof patch pockets as well as a hidden inside pocket so you can keep all your electronics, papers, and more safe while you work out in the rain. Project managers out on a jobsite may need to keep a phone or radio on them throughout the day, and the Hi Vis Rain Jacket provides a way to comfortable carry this equipment without worry of it getting wet. Our equipment has been the go-to option for low-light workers in a variety of industries, so you know you can depend on our jacket to help you keep things dry and keep you safer while you work.
Following safety compliances and designed to provide comfort and functionality, the Hi Vis Rain Jacket from Nite Beams™ can be the perfect addition to your fall safety equipment. Nite Beams™ has a strong commitment to the safety of workers in need, so you know you can count on our products. Learn more about how they can help you by reach out today!