Get Through Dark and Stormy Days with LED Apparel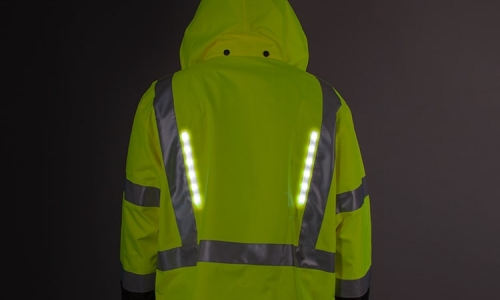 Spring is known for rain, but LED apparel from Nite Beams™ makes sure you stay seen even when there are clouds overhead and raindrops obscuring vision. With reflective strips, bright colors, and powerful LEDs, the lighted apparel from Nite Beams™ guarantees you and your workers stay visible while out in a dangerous worksite.
Stay dry all night
When working on roadways, construction sites, or any other outdoor work site during the night, you can stay dry from the rain through your shift with the Hi Vis LED rain coat from Nite Beams™. Class 3 compliant and 100% waterproof protection and comfort, the LED rain coat from Nite Beams™ gives you the noticeable LED apparel you need to stay dry through your whole time spent out in spring rains. With a tuck-away hood and two front pockets, the rain coat we provide has the accessories you need to have a better experience when working in the rain.
Nite Beams™ Standard
As with all our lighted clothing, you can expect only the best visibility from our rain coat. Fitted with 24 Super Bright LEDs and 2" strips of 3M™ Scotchlite™ reflective silver tape, the LED rain coat will not only keep you dry but will give you and your workers visibility through the darkest of conditions and the heaviest rainfall. With the Nite Beams™ standard rechargeable design, you can have 10 constant hours of light every full-charge to get you through shifts day after day. The charging cord is included as well, so you get everything you need with each LED rain coat to get started on safe work conditions.
Nite Beams™ provides all the apparel and accessories you need to push the limits of workplace safety. Designed and manufactured to provide the best options for workplace safety, Nite Beams™ has what you need.