Go Beyond the Industry Minimums with ANSI Approved Apparel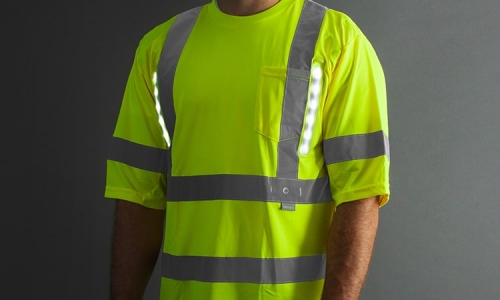 When your business is considering what visibility clothing to get for workers, you can go above and beyond industry minimums with the ANSI approved apparel from Nite Beams™. The shirts, vests, jackets, and more that Nite Beams™ has available to customers that work in low-light conditions are all ANSI approved apparel that can provide great visibility where it is needed.
From protection against workplace accidents to providing protection from outside factors like passing vehicles, high visibility clothing is a great option for anyone working in the dark. With Nite Beams™ products, your workplace safety will be unmatched.
What is ANSI 107?
The clothing at Nite Beams™ is ANSI 107 Class 2 compliant. But, if you are not familiar with the different levels of safety for visibility clothing, this may be a confusing description. This description is the American National Standard for High Visibility Safety Apparel and Accessories. It is a voluntary standard that has been developed for both reflective and high visibility clothing to help ensure that workers can stay safe while on a jobsite.
Many of our clothes are specifically type R under this industry standard, meaning they are focused on roadway and temporary traffic control, but we also provide some options for public safety (type P) as well.
Additional benefits
Not only are our ANSI approved apparel options up to industry standards for visibility, but they also provide a variety of other benefits as well. Depending on the options that you choose for your safety gear, there are different options of Super Bright LEDs, concealed pockets, mic tabs, waterproof protection, and more. By choosing the best one for your needs, your workplace can not only be safer, but also more convenient for workers.
We talk with industry professionals to always ensure that the safety apparel that we have to offer meets the expectations of those working in the industries we provide for. This dedication to providing only the best for individual's standards are what sets Nite Beams™ above the rest.
With options available for roadway workers, emergency responders, depot workers, and more, Nite Beams™ products can make a great difference in safety no matter where they are used. Look through our catalogue of products to see what we have available and get in contact with a member of our team to get started on an order for your business today!