Help Workers Safe on Summer Nights With Reflective Safety Gear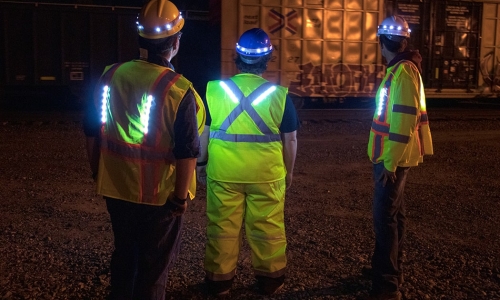 Summer brings with it a greater opportunity for roadwork. Making sure crews are visible to oncoming traffic is one of the most effective ways to prevent hazards. With most major road work happening at night to take advantage of the lower volume of traffic, its necessary to provide roadway workers with high visibility clothing that makes them stand out to drivers. Hi visibility apparel can keep your roadway workers safe day and night, and with the variety of hi vis apparel available from Nite Beams™, you'll be able to keep your roadway workers safe in any of the working conditions that summer brings with it.
Maintain Visibility with Reflective Safety Vests
Ensuring that workers stay visible to drivers even in low light conditions, the hi vis vests offered by Nite Beams™ not only provide workers with a highly visible reflective strips that makes them highly visible to oncoming traffic, but they are also equipped with four rows of powerful LED's that ensure that workers are seen even when other light sources aren't present. Offered in class 3, break-away, Canadian, and public safety styles, the hi vis LED safety vests are perfect for roadway workers, and anyone else who's work puts them close to oncoming traffic.
Comfortable Visibility in Hot Summer Weather
Made from a cooling mesh fabric in a highly visible fluorescent yellow, the LED safety vests by Nite Beams™ are also capable of keeping workers safe and visible even during bright, hot summer days, humid summer nights, and any other weather conditions they could face while on the job. Coupled with the high visibility sun shield, anyone who works in traffic will be able to beat the heat while also having the advantage in safety that high visibility apparel can bring.
Compliant with the American National Standards Institute for High visibility apparel, the LED safety vests from Nite Beams™ meet and exceed the standard for reflective safety equipment. Providing workers with even greater visibility in low light conditions, the ANSI approved apparel from Nite Beams™ can help provide visibility and safety to roadway workers day and night. Browse our traffic safety supply online or contact us today to learn more about how the high visibility equipment from Nite Beams™ can keep you safe.