High Visibility Clothing Provides Long-Lasting Safety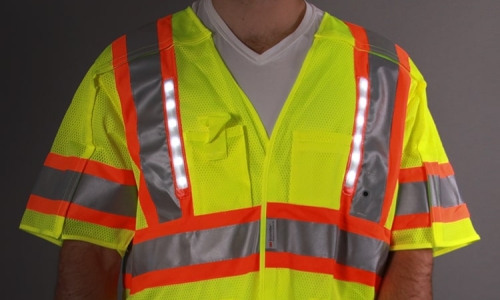 Low-light workplaces benefit greatly from high visibility clothing when there are hazardous working conditions present. Any way that workers can increase visibility while on the job where there are possible dangers means a safer workplace for them and others. Whether heavy machinery is being used or there are vehicles passing by at high speeds, high visibility clothing is a great choice for increased visibility.
Nite Beams™ provides award winning high visibility clothing that offers long-lasting safety where and when it is used. For any of the situations described or any others that your workplace might need, Nite Beams™ products are the best choice.
Always stay illuminated
When choosing high visibility clothing for your workplace, you want to be sure that the option you choose lasts through the whole night with the same great illumination at both the start and end of a shift. Depending on the light being used, how it is designed, and more, lighting may last a couple of hours before it goes out. However, this is unhelpful when hazardous working conditions last through the entire night.
As an example, the Nite Beams™ Hi Vis LED Safety Vest (Class 3) offers constant light for up to 15 hours or flashing light for up to 25 hours. This is more than enough time to get a worker through the darker hours, with enough time for parts of the country that face more night hours than others. Each choice of Nite Beams™ high visibility clothing gives similar light hours, making any option the best one, no matter your needs.
Always stay charged
Not only should high visibility clothing provide great illumination for a worker for a long period of time, but it should also have easy charging available to allow for continued use day after day. Rather than go through batteries with a piece of equipment that functions as your source of visibility on the jobsite, a rechargeable system is always best.
Nite Beams™ products are all USB rechargeable, with a long-lasting, short charge time lithium-ion battery. With only a couple hours of charge, you get the full light time available for whatever Nite Beams™ product you are using, giving more than enough light to be noticed by others and increase safety on the worksite.
Nite Beams™ carries all the high visibility clothing necessary to provide the greatest level of safety to any low-light work environment. When you want workers to stay brightly illuminated through their entire workshift and easily recharge all your businesses gear each day, count on the products at Nite Beams™ for the job.