High Visibility Traffic Safety Equipment Helps Keep Workers Safe in Unpredictable Weather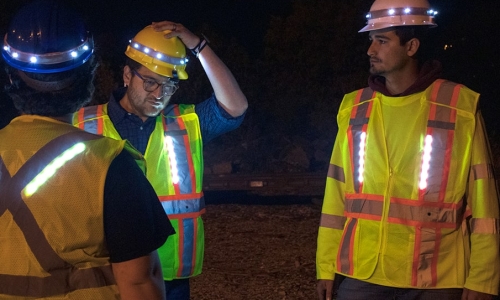 The arrival of warmer weather means that more construction projects are about to start, but spring also brings with it unpredictable weather. It is important that road construction workers are prepared for work in heavy traffic or rainstorms, and Nite Beams™ provides reflective gear that will help sure workers maintain a high level of visibility, keeping you safe in low light and low visibility conditions this spring. Always looking for new ways to increase worker visibility, Nite Beams™ has the latest in worker safety apparel to help you stay safe as the season changes.
Reflective Clothing Can Saves Lives
It's widely agreed upon that reflective clothing makes it safer for anyone in low light and low visibility conditions. Pedestrians, workers, and public safety officers alike are much safer at night with high visibility clothing. Being able to be seen clearly at night and from great distances is of utmost importance when it comes to avoiding accidents. High contrast reflective safety vests are encouraged for anyone who works or walks in low light conditions. Designed to increase safety and visibility, Nite Beams™' selection of Hi Vis LED Mesh vests come in a variety of styles to best fit whatever work your doing, while maintaining a high level of visibility.
High Visibility Road Markers
Part of traffic work safety is making sure that people can see the road work before they pass it. Reflective road cones have helped to warn motorists in the past of work zones but haven't always proven effective. It's important that traffic workers have the road markers they need to help prevent accidents. To assist with this, Nite Beams™ has developed both the Road Commander, and the Cone Commander.
Designed to provide a better alternative to road flares, the road commander is a high visibility LED road flare that warns motorists up to 1 mile in both directions of upcoming roadwork. Based on the Road Commander, the Cone Commander improves upon the visibility of traffic cones by providing visibility of up to one mile in all directions.
Improving visibility is one of the most important ways to keep not only traffic workers safe, but pedestrians, public safety and anyone else in low light, high traffic environments. Contact us today, and learn more about how Nite Beams™ can help you improve traffic safety.