Improve worker visibility with a Traffic Safety Supply from Nite Beams™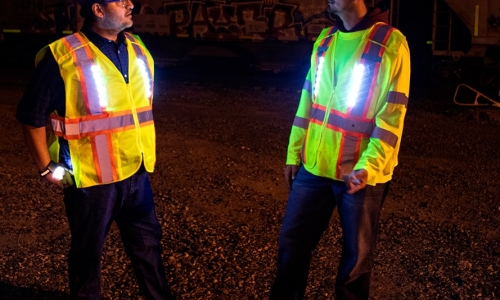 Low light and low visibility conditions can create hazard for any roadway worker. Always working to push the limitations of traffic safety equipment, Nite Beams™ offers some of the best high visibility apparel and LED safety equipment in the industry. Whether you are a roadway construction worker, an emergency responder, or even a public safety officer, when you choose Nite Beams™ for your traffic safety supply, you can be sure that you and your crew are well equipped with gear that keeps you and your worksite visible in any low light and low visibility condition.
High Visibility Apparel for Workers From Every Industry
Improving on the designs of traditional traffic safety equipment using High visibility LED's, The traffic safety products from Nite Beams™ can help keep drivers well alerted to the presence of roadway and traffic workers. Offering four different styles of hi vis LED safety vest, including public safety, class 3, Canadian style, and break away styles, the lighted safety vests from Nite Beams™ will keep you highly visible in low light conditions. With USB rechargeable LED's that offer up to a quarter mile of visibility in darker hours, the reflective safety vests from Nite Beams™ offer some of the greatest personal visibility to any traffic worker.
Providing the Next Innovation to an Outdated Design
With the last innovation to the standard traffic cone having been made over half a century ago with the addition of reflective tape, the orange cones that are used today are well overdue for another upgrade. Providing traffic cones with up to 4 miles of visibility in four directions, the cone commander brings greater visibility to any traffic cone. Working to upgrade already existing traffic safety equipment at any worksite, traffic workers will be able to warn drivers of work sites, hazards, and more with the visibility provided by this high-powered LED addition
Helping provide Roadway workers, construction workers, public safety officials, and emergency responders get the visibility they need to stay safe and direct traffic, Nite Beams™ is constantly working to push the boundaries of traffic safety equipment. Check out more of the traffic safety products from Nite Beams™ online or contact us today to learn more about how you can benefit with a traffic safety supply from Nite Beams™.