Increase the Safety of Any Jacket with a Reflective Safety Vest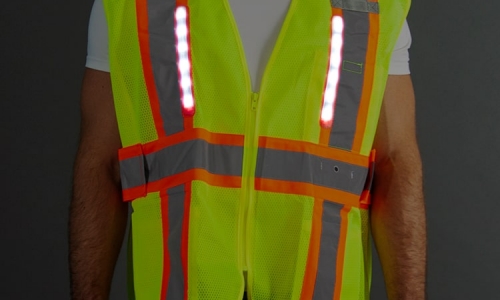 Whether your company has recently acquired jackets or has some already that has company branding that you don't want to forego, your workers can instantly become more visible and safer by simply slipping over the jacket a reflective safety vest from Nite Beams™. Our reflective vests are effective and simple to manage, providing maximum visibility with low effort.
Quick changing
With either a 3-point break away, 5-point break away, or zipper offered on different vests as a means to wear them, Nite Beams™ provides reflective safety vests that are simple to take on and off, making for a quick change when getting on the job. Our sleeveless vests allow for freedom of movement while also not covering any company patches of logos or divisions you might need to show on shoulders.
Bring visibility
When your business's or group's regular outdoor gear doesn't have a great way to make individuals stand out when working late at night, a reflective safety vest from Nite Beams™ can give them the things they need to catch attention and contribute to their safety. Utilizing reflective tape as well as Super Bright LEDs, Nite Beams™ has vests that ensure your worker, members, and more won't go unnoticed.
Supplement vests
If you like the amount of light that Nite Beams™ vests can provide, you can supplement them with even more sources of bright LEDs with many of our different products! Each accessory provides individuals with ways to further increase visibility, and ultimately, safety. Nite Beams™ gives people everything they may need to stay as safe as possible and can give additional suggestions about our products should you need them.
No matter what business or industry you and your workers are in, work jacket visibility can be increased through the use of Nite Beams™ reflective safety vests and other products with ease. Contact us to learn more about what we offer!