Keep Roadway Workers Safe With LED Equipment From Nite Beams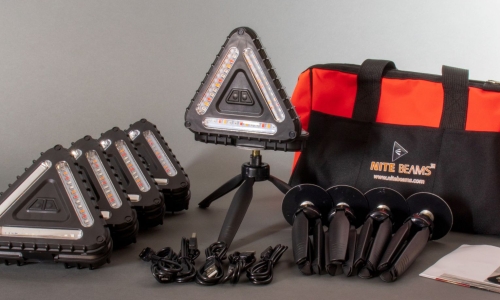 One of the most important aspects of roadway safety is visibility. Having equipment that can provide workers with both personal visibility and work zone visibility is one of the best ways to help avoid many of the dangers that come with working in high traffic areas. Offering safety supplies to roadworkers from every industry, when you need some of the best traffic safety products to keep your workers safe, you can count on the high visibility LED products from Nite Beams®. With products that can provide your workers with effective visibility to enhance their safety during any kind of roadway work, Nite Beams® offers some of the best traffic safety supplies.
Bright and Effective LED Road Markers
Having an effective road marker can offer major advantages in preventing accidents in and around roadway work zones, and at Nite Beams®, we work to create some of the most effective LED road markers available. Providing up to one mile of visibility to worksites, the Road Commander and the Cone Commander from Nite Beams® can ensure that any work zone is visible to oncoming traffic. A Rechargeable LED road flare that can provide up to 24 hours of continuous flashing, the Road commander creates a bright and visible warning that tells drivers to move over and follow its success in protecting workers and drivers alike, Nite Beams® has developed the cone commander. Improving upon the orange traffic cones that are commonly used today, the cone commander can help to provide roadway workers with an addition that adds even greater visibility to roadway markers, ensuring that your worksite is visible to all drivers from every direction.
LED Lighted Apparel That Provides Effective Visibility
Personal visibility plays a major role in saving the lives of road workers every day, and at Nite Beams®, we work to provide some of the best LED lighted safety Vests, apparel, and accessories. Carrying four different styles of LED Safety Vest, class 3, class 2 public safety, Canadian, and break away, our ANSI approved apparel make use of 24 super bright LED's and can provide workers with effective illumination for over 20 hours on one charge.
Finding innovative ways to push the capabilities of traffic safety equipment, when you need to ensure that your workers have the effective illumination, they need to stay visible and minimize hazards and accidents, you can count on the traffic safety supply from Nite Beams®. Browse our available products online or contact us today to learn more about our LED safety equipment and apparel.