LED Lighted Apparel and Accessories Provide High Visibility to Workers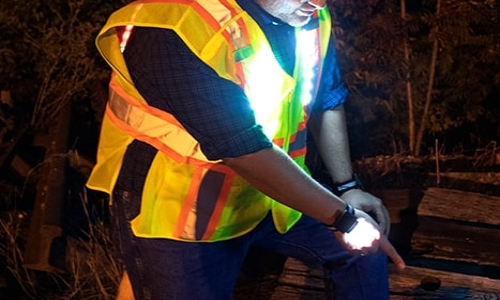 High visibility gear is an essential piece of jobsite equipment. Regular high visibility apparel helps make workers more visible and helps to prevent accidents, and with the lighted hi vis apparel from Nite Beams™, workers can benefit from even greater visibility, as well as utility that the LED lighted apparel provides. A premier provider of lighted safety equipment, Nite Beams™ is constantly seeking to improve roadway safety equipment and has innovative designs for safety equipment and apparel that have barely changed in 60 years. Prioritizing Accident prevention, Nite Beams™ has a selection of LED lighted safety apparel that will help keep workers safe in low light, and low visibility conditions.
Lighted Apparel Keeps Workers Visible
As a proud supplier of ANSI approved apparel, Nite Beams™ offers several different styles of its LED reflective safety vests. Available in class 3, breakaway, public safety, and even Canadian styles, the selection of vests available from Nite Beams™ can provide workers in a number of industries with higher levels of visibility. Perfect for fire departments, towing companies, road workers, law enforcement, and more, the lighted safety vests from Nite Beams™ are designed to improve upon standard reflective safety vests, and help keep workers illuminated in low light conditions, keeping them safe even into the night.
LED Gear that Boosts Visibility and Provides Utility
Pushing the limits of roadway safety apparel doesn't just limit Nite Beams™ to improving on the design of the reflective safety vest.  With hard hat light bands to help illuminate your head, and wrist lights that provide hands free lighting, roadway workers, mechanics, and more can benefit from the illumination that Nite Beams™' products provide.
With LED accessories from Nite Beams™, any piece of headwear can be equipped with a high visibility LED. Clip lights can be attached to almost any type of headwear and provide up to ten hours of light. Providing even greater illumination, the Head Commander Work Light can provide access to fifteen hours of hands-free illumination that can fit on a hard hat, baseball cap, or even just your bare head. Providing both Utility and visibility, the LED accessories offered by Nite Beams™ will provide the light you need to see your work, while making certain others can see you.
Prioritizing accident prevention, Nite Beams™ is constantly working to improve upon roadway safety apparel. By making workers more visible with Lighted safety apparel and other LED equipment, Nite Beams™ provides everything outdoor workers need to stay safe in low light conditions. To learn more about our construction and traffic safety products, contact us today!