Lighted Apparel Brings Success and Safety to Outdoor Work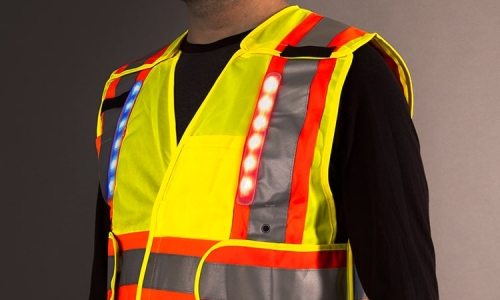 Whether you're a supervisor or worker for a job that requires many hours spent outside at night, lighted apparel can often be of benefit to keep you out of harm's way during dangerous scenarios. From dangerous equipment being used on a site to roadside traffic sometimes passing dangerously close, lighted apparel can be the thing that makes the difference by bringing a largely noticeable product to your worksite every night.
Most positions
Nite Beams™ carries products for almost every position that can benefit from lighted apparel. We carry t-shirts, break-away vests, railroad vests, coats, and more! Different types of shirts and jackets can be useful for changing seasons, and each come with the reflective strips and Super Bright LEDs that bring you the best visibility with your comfort. These varying products ensure that almost any position working in the dark can stay visible and stay safe on the job site.
Specialized gear
Often working roadside on something like construction may also benefit from lighted apparel from Nite Beams™, but law enforcement can benefit from the safety offered by illumination of our law enforcement-specific products. Law enforcement is often on the move, making it impossible to keep large stationary lighting on an area like with construction, so lighted apparel from Nite Beams™ can often be the best way for law enforcement to stay visible for every passerby. Whether it's law enforcement directing traffic after a concert or highway patrol standing roadside after pulling someone over, the lighted apparel from Nite Beams™ will keep them safer whenever it's worn.
With Nite Beams'™ lighted apparel, outdoor workers of all kinds can get the visibility they need to improve safety for themselves while on the job. With clothing and accessories of all different kinds, contact Nite Beams™ and see what we can do to illuminate you and your workers today!