Prepare for a Busier Work Season with Traffic Safety Equipment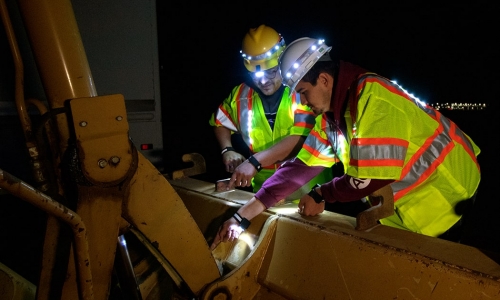 With warmer weather making its way to us, and traffic on the rise, there is no better time to get a head start on construction season than by ordering the best traffic safety equipment available through Nite Beams™. The ground no longer being frozen means more construction projects are on their way, but it also means more traffic that workers must be conscious of when working.
Increased safety for increased traffic
Because there are bound to be more vehicles in the spring and summer into later parts of the evening, construction workers can depend on the traffic safety equipment available at Nite Beams™ to help them stay more visible into low-light hours. With breathable lighted vests, lighted gloves, hard hat lights, and more, there are plenty of options that workers can take advantage of to ensure that they stay visible during low-light hours for each other, as well as any passerby that is driving near the construction site they are working at.
Traffic safety equipment when it counts
Nite Beams™ provides traffic safety equipment to workers when it matters most. Being on a jobsite late at night near a roadway or on a site that has heavy machinery can mean lots of hazards in the area that can be avoided with the proper personal protection equipment. Raising visibility is one of the key ways that workers can ensure that they are seen either by passerby's or their crewmates to make sure that no unfortunate accidents happen while on the job.
As traffic increases with the season as well as the amount of projects construction companies are hired to complete, there are more opportunities for workers to take advantage of the traffic safety equipment offered by Nite Beams™. Find the equipment that will best work for your jobsite by browsing through our options here or give us a call to learn more.