Reflective Clothing for Construction Starts the New Year Right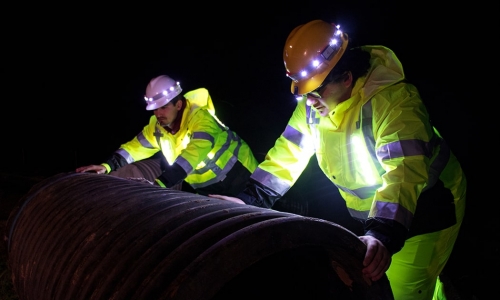 As your business begins to budget for new equipment, you can count on reflective clothing for construction to keep workers safer in the New Year and into the future. Figuring out what your business needs to consider each year during budgeting can sometimes be a complicated process. What should not be complicated, however, is the improvement of safety for construction workers who need extra visibility while on the job. Nite Beams™ is a supplier of reflective clothing with powerful LEDs to maximize visibility and make sure that no matter what project your business takes in the new year, that it is ready to help its workers with visibility, even during the dark hours of the night.
Options year-round
The team at Nite Beams™ knows that construction never stops year-round, so we offer a variety of reflective clothing for construction to make sure that the same level of visibility is offered at any time. During the heat of summer, workers can count on one of our Hi Vis LED breakaway vests. Getting into late fall and winter, they may find our Ultimate Jacket or LED raincoat are more what they need to stay warm while also staying visible and safe. Each utilizes the same highly reflective 3M strips on their design, as well as Super Bright LEDs to maximize visibility, ultimately making workers safer on the job.
Always have visibility
When you order a reflective clothing for construction through Nite Beams™, you choose options that are easily capable of providing you with excellent visibility every time your team goes on a jobsite. With USB plug-in capability, each piece of gear that comes equipped with Super Bright LEDs can easily be charged day after day to provide you with extra visibility throughout the night. And, if you forget to charge it before heading to a jobsite, or need to charge something partway through the night, our 5 Port USB Car Charger can help you to get it done on the way or on the site. Whatever visibility concerns you might have at your construction site, the reflective clothing options at Nite Beams™ are sure to help.
With different clothing options available that will all provide the same great levels of protection throughout the night, Nite Beams™ has everything that construction site workers need to feel safer while working in the dark. Learn more or get started on an order by reaching out to our team today!