Reflective Safety Vests Provide Light in Shortening Daylight Hours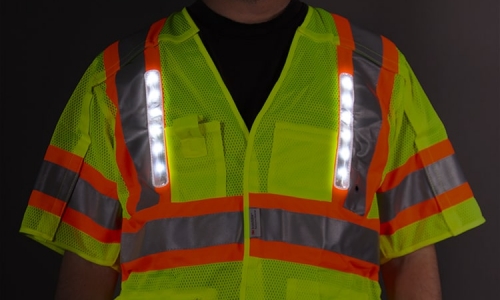 Now that we have hit Daylight Savings once again, our working hours are losing light faster, meaning you and your roadside workers can benefit from reflective safety vests. Nite Beams™ provides the best safety vests for working in low-light conditions, and our options of vests fitted with powerful LEDs are used and trusted by companies ranging a variety of outdoor working conditions. Whether they are on a construction site or on the highway roadside, the reflective safety vests from Nite Beams will keep them safe night after night.
Dual visibility clothing
Each reflective safety vest that Nite Beams provides not only has silver reflective strips that provide great visibility during darker hours, but they also have powerful LEDs to show where individuals are with ease. These two sources of visibility come together to create a piece of reflective clothing that cannot be beat in terms of safety in low-light conditions. As daylight hours continue to dwindle every day, having the right kind of safety equipment can mean the difference between a close call and complete safety.
Visibility for the long-term
Each reflective safety vest from Nite Beams comes with a USB rechargeable lithium ion battery and charging cord to ensure that workers always have their vests lit when they need them. Charging time only takes just under two hours, with 10 hours of constant light or 20 hours of flashing light available. This means every long night during the winter season that you and workers can have bright visibility for each other, as well as others, meaning everyone can feel safer on the job.
Providing for all industries that need extra visibility during low-light conditions, Nite Beams' reflective safety vests are a great option to go over warm clothing for the winter season. Contact us today to get started on an order!