Safety Apparel Keeps Workers Visible Through Winter Storms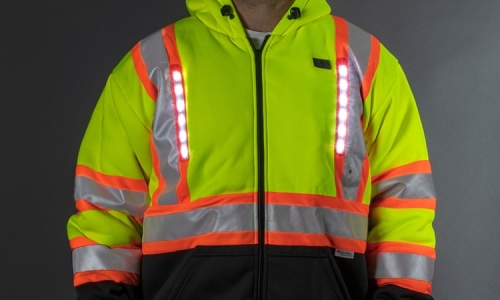 Safety apparel shouldn't only protect you when everything is clear, and conditions are perfect. If you live in the Midwest, then you know the intense snowstorms that we can often have through the winter season. With safety apparel from Nite Beams®, workers can be protected throughout winter, even when facing blizzard-like weather. Between the bright LEDs of our safety apparel to the naturally bright color and reflective strips, you can have everything you need to ensure visibility is maintained. Nite Beams® always carries the best equipment for the purposes of visibility, so don't miss out this winter when your workers are out in the snow.
Dress for both comfort and visibility
The safety apparel at Nite Beams® is specifically designed to not only provide great visibility when on a job site, but they also offer great comfort as well. Safety equipment should not have to be a pain to use when working out on a job site, so you can guarantee comfort alongside your safety when you invest in Nite Beams® safety equipment. Offering coats with fleece liners, waterproof materials to keep you dry from melting snow, utility pockets for any equipment, and much more, there are countless benefits when you wear safety apparel from Nite Beams®. When you want warmth and comfort on the jobsite, we have got the gear you need.
Full-coverage safety apparel
When you want safety apparel on every part of your uniform, you can count on the gear at Nite Beams®. Offering protective headgear, jackets and vests, pants, gloves, and more, there are a large variety of options that can keep you covered and protected from head to toe. And, with a variety of accessories available to go alongside your standard safety apparel, Nite Beams® offers everything that a business needs to keep workers comfortable and safe on the job. With winter weather fast approaching, don't hesitate to get the gear you need before its gone!
A proud supplier of high visibility clothing, accessories, equipment, and more, Nite Beams® is your best choice for safety apparel when you need it. With winter weather coming up fast, don't hesitate to get started with your order for winter safety equipment. Simply give us a call, and a representative from our team will help you get everything you need to make your business's work safer. Stay warm and stay safe with Nite Beams®.