Redirect Drivers Around Workers with Traffic Safety Equipment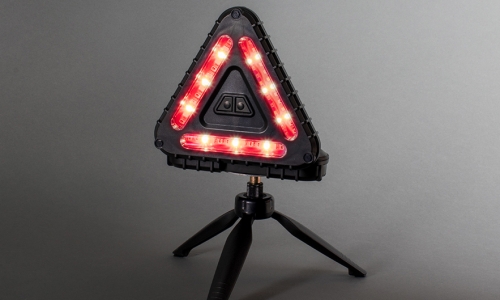 Improving the visibility of workers and work zones is one of the best ways to keep workers safe. Low light conditions can make it harder for motorists to see road work, hazards, and even roadside personnel. While high visibility apparel can make workers and responders visible, providing oncoming motorists with a visual warning is also important. Keeping work zones and roadside emergencies visible in rain, snow, and other low-light and low visibility conditions, Nite Beams™ has LED traffic safety supplies that help prevent accidents.
Bringing Roadway Workers Greater Safety
The last innovation in traffic cone design happened over 60 years ago with the addition of reflective tape. Made to address the traffic cone's limitations in low light conditions by adding high visibility LED's, the Cone Commander by Nite Beams™ innovates even further upon the design of the orange traffic cones that maintenance workers, tow operators, and construction workers have used for nearly six decades. Mountable on all types of traffic cones, the Cone Commander can bring even greater visibility to work zones by providing cones with up to one mile of visibility in all directions, alerting motorists well before they pass.
Prevent Accidents with LED Flares
Warning motorists of roadway hazards is important for preventing further damage. While standard road flares work to warn motorists, they are limited in visibility, and are one time use only. Providing highly visible warning for drivers, the road commander is an LED rechargeable road flare alternative. Providing emergency responders with an extremely visible warning to oncoming traffic, the road commander helps prevent further damage by providing a visual command to move over to oncoming motorists. Working to guide traffic around accidents, chemical spills, fires, or other hazards, the Road Commander can help keep fire fighters, public safety, emergency medical services, and drivers safe during roadside emergencies.
Bringing greater visibility to accidents, hazards, or even just maintenance work can make the road safer for both drivers and roadside personnel. Able to make road work and emergencies visible in almost all conditions, the Cone Commander and Road Commander can help bring greater visibility and safety to workers and emergency responders. Browse our traffic safety products or contact us today to learn more about the traffic safety supply available from Nite Beams™.