Be Seen Clearly on Job Sites with a Bright Hard Hat Light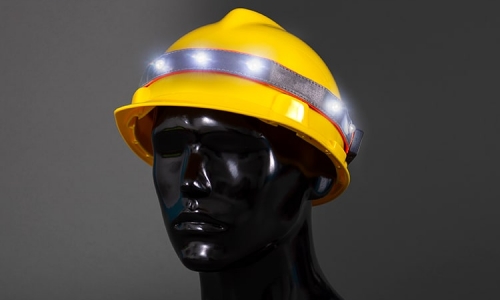 Construction season is in full swing, and your job site can maintain higher visibility using hard hat lights from Nite Beams™. Effective and efficient, the Nite Beams™ hard hat light gives your workers an additional level of safety whenever they are on the job. With its ease of use, our hard hat light can make a simple, but effective addition to anyone's construction business.
Layers of visibility
As with some of our other safety equipment, the hard hat light from Nite Beams™ utilizes multiple layers of visibility for added safety. The flexible band on every hard hat light comes with 3M reflective tape, as well as 10 Super Bright LEDs. Between the LEDs that give visibility for up to one-fourth of a mile and reflective tape for extra security, you workers can be more visible than every while working late at night on roadways.
Versatile use
As a simply, but effectively design headband, the hard hat light from Nite Beams™ can be retrofitted over and affixed to any hard hat. So, no only do you get some of the best visibility equipment in the construction industry, but you also don't have to buy all new gear for the change. If your workers already have safety headgear that they use, simple apply the hard hat light over the top and they are ready to go.
Hands off lighting
Once you turn on your hard hat light, you get an easy, hands off 10 hours of visible light. This means your workers can stay safe through an entire night shift with never having to worry about their lights after turning them on. Designed for road workers who want to focus on their task without worry for safety, the hard hat light from Nite Beams™ is the ideal solution to construction workers' needs.
Nite Beams™ provides some of the best visibility clothing for the areas of construction, law enforcement, traffic safety, and more! If you need solutions to improve roadway workers' safety on the road, Nite Beams™ is here to help.