Maintain Comfort with Versatile Safety Apparel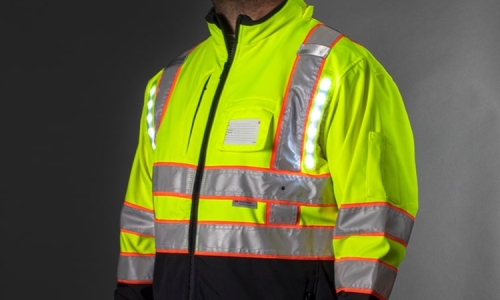 Construction companies, law enforcement, railway workers, and more require safety apparel that can keep them safe during low-light conditions, however, this does not mean that they need to lose out on comfort. Safety apparel that is bulky or restricts movement is often more of a detriment than it is helpful, especially in positions which require freedom of motion.
Nite Beams™ offers safety apparel that gives the wearer visibility beyond the standard, all in a comfortable design. No matter where or when you wear our products, safety is a guarantee.
The standard for fall
With the last month of summer winding down, safety apparel for fall is a consideration that those with workers outside should consider. The Ultimate Jacket from Nite Beams™ provides the wearer with a ANSI 107-2015 compliant jacket that not only provides an impressive amount of visibility through its Super Bright LEDs and reflective strips, but also a warmer option as weather starts to cool. The zip out fleece liner can be removed or added as weather starts to dip into lower temperatures.
With adjustable sleeve cuffs, a hideaway hood, and a waterproof soft shell, the Ultimate Jacket provides safety and visibility without losing out on comfort.
Add safety to favorites
If your position requires you to wear safety apparel for visibility, you can easily add it into your comfortable clothing with a safety vest from Nite Beams™. Whether you need our standard safety vest, a safety vest Canadian style, or a vest specifically made for public safety, our team offers options to suit the situation. This means whether you have a uniform that you are required to wear, or you simply want to stay covered with your own comfortable clothing, a vest can go over the top with little effort or interruption.
It is always the goal of Nite Beams™ to provide simple but effective safety, and our safety vests are some of the best that we offer for it. And, on top of their convenience, they also provide the same safety that meets and exceeds industry standards.
Whatever safety apparel you choose from Nite Beams™, you are guaranteed comfort and safety, especially for positions in low-light conditions. From a lightweight work vest to a fleece lined jacket for cooling temperatures, we have you covered. Learn more about any of our great options and how they can improve safety for your nightly operations by contacting us today.