Reflective Safety Vests Provide Quick and Simple Added Safety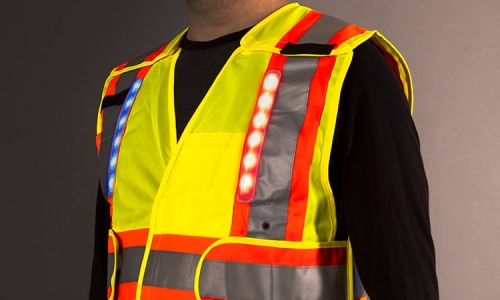 When working in low-light conditions outside, a reflective safety vest can provide the quick and simple additional safety that workers need. Nite Beams™ is a provider of unique personal protective equipment that makes a variety of reflective safety vests for different industries.
Rather than your standard safety vests, the vests from Nite Beams not only have reflective 3M strips stitched into them, but they also provide extra visibility with Super Bright LEDs. This unique design for each model that we provide is what makes our customers love their Nite Beams products and depend on them again and again.
Wear any time of year
Whether in the middle of winter or in the heat of summer, a reflective safety vest from Nite Beams can give workers added safety with ease. Nite Beams has different break-away vests available, from public safety to railroad vests. These options provide the positions they are made for with extra safety whenever it is needed at night, easily fitting over your regular seasonal gear.
Loose-fitting and simple to put on, you can wear our vests with heavy winter coats, light t-shirts, or whatever else is part of your regular gear. The designs that Nite Beams provides are specifically chosen to provide late night workers with some of the best gear for their position, so you know you can count on anything that we provide for you.
Space for extra gear
Not only can the reflective safety vests from Nite Beams provide you with a great way to bring added safety to your regular gear, but some models also have inner pockets to hold additional items while you are on the job. We work with clients in each industry to make sure that their Nite Beams products are always best serving their teams.
We also know that some gear has special needs to be certified for your safety, and that is why we provide different models with different capabilities. A great example of this is our Canadian Style Hi Vis LED safety vest. With the standard "x" pattern on the back, it provides the necessary design while still providing extra protection and pockets for tools and equipment.
When your workers could use extra protection on your worksites that also provides utility to their gear, the reflective safety vests from Nite Beams are the perfect choice. If your work in low-light conditions and want a great way to add visibility and safety to your operations, count on Nite Beams to have the perfect reflective apparel for you.