Retrofit Visibility with a Hard Hat Light and More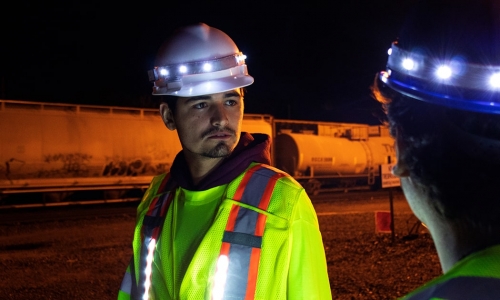 When you want visibility on the job, but your company already has plenty of equipment that is still functional and effective, you can retrofit bright LEDs onto them with a hard hat light, wrist lights, and more from Nite Beams™. We at Nite Beams™ understand the needs of our customers, so we take pride in being able to offer you the large variety of lighted selections for your existing gear.
Head protection
If you work in low-light areas that require you to wear head protection such as a hard hat, the LED Hard Hat Band from Nite Beams™ can be the perfect solution to add to your gear to solve any visibility issues. Designed to not only light up your work but also help you become more visible to others to avoid workplace incidents, our Hard Hat Band can retrofit over most hard hats. By attaching it with its silver, reflective tape, you get multiple visibility tools all included in one smart purchase. When you need a hard hat light, and already have your own hard hat without one, consider Nite Beams™ for an easy and effective solution.
Clip on
Nite Beams™ also can provide you and your team with our Clip Light. Also providing you with high-intensity lighting from LEDs, the Clip Light can be added to almost any piece of clothing or gear to give you a directed source of light to aid in the safety of the task you're performing. We at Nite Beams™ are always looking for ways to make workplaces safer, and our Clip Light is just one more tool that can provide your crew with the visibility increase that you need to work safely.
Exceeding industry standards and leading the field of high-visibility clothing and accessories, Nite Beams™ is your best choice of workplace safety options. Contact us today to learn more about what we can do for you!