Traffic Safety Supply Lights Up the Night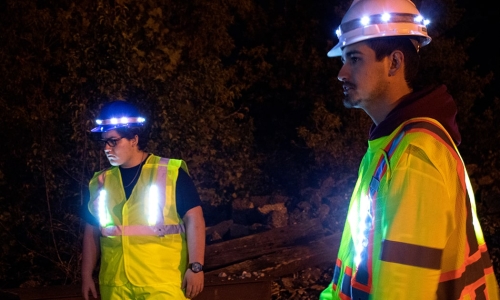 With daylight hours quickly shortening, traffic safety supply is the perfect solution to light up the night and ensure workers stay safer while on a jobsite. With sunset coming close to the same time that those working nine to five get out of work, those working past this time anywhere that there is traffic can use added layers of safety to ensure they can work as protected as possible from unfortunate accidents.
Nite Beams™ provides a large variety of safety equipment that meets industry standards for safety while providing comfort at the same time. Whether you are in law enforcement, the construction industry, or any other position that requires you to be near passing traffic, Nite Beams™ has the products to help.
Clothing and equipment
When workers are in low-light conditions, they should have all available resources to increase their safety when on the job. Visibility can be added in a variety of ways beyond simply using reflective strips or standing lights. Workers that have their own source of light for their own visibility to see the worksite better as well as their visibility when being seen by others are guaranteed to have a safer work experience.
Nite Beams™ carries hi vis clothing, attachable lights, streetside cautionary lights, and more that workers use to ensure a safe worksite. The Super Bright LEDs in each piece of visibility clothing that we offer work in tandem with the 3M reflective strips to create the best safety clothing available. This coupled with the wide variety of equipment options to add on to a worksite means Nite Beams™ always gives the safest options for traffic safety supply.
Add to current equipment
The easiest traffic safety supply to implement into your usual routine is any that works alongside your current equipment. Since you are already used to setting up your usual safety gear and need little reminder on how to best use it, when to set it up, and more, equipment that goes with it can make adjusting to a new system that much easier.
Examples of this with Nite Beams™ includes hi vis clothing that matches the style of your current vests or jackets, the Cone Commander, and more. Clothing takes the same effort to wear as your old work outfit, equipment such as the Cone Commander goes directly onto the equipment you already use at the roadside, and the other equipment offered by Nite Beams™ operates much the same for easy use.
Always pushing the limitations on visibility for traffic safety supply, Nite Beams™ provides everything that outdoor workers need as daylight hours continue to wane. For any additional information or to get started on lighting up your longer work nights with traffic safety supply, contact us soon!