What are the Benefits of Lighted Apparel in the Workplace?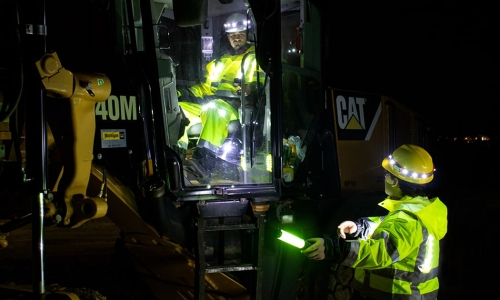 Whether you have seen lighted apparel before or it is a new concept to you, you may have wondered what some of the benefits of including it in a workplace are. From construction work late at night to a traffic commander keeping traffic flowing at a busy intersection or site of an accident, there are many situations in which lighted apparel can be a great benefit, bringing light to even the darkest spaces.
Nite Beams™ carries a wide variety of lighted apparel that late night workers can count on when it matters most. Our dedication to a safer work experience is what drives us to provide Hi Vis clothing options that provided added security for any worker.
Charge and go
One of the great benefits that Nite Beams™ offers to its customers with lighted apparel is the lithium-ion rechargeable battery that every piece of clothing sports. This battery allows Nite Beams™ products to always be charged for a shift, through fast, simple charging. And, our clothing options allow for more than 10 hours of light, either constant or flashing, allowing for clothing to be in use throughout an entire shift with ease.
But, when clothing battery power runs low, Nite Beams™ also offers USB chargers that can either be used with a wall plug, or in a vehicle. The vehicle charger assists workers to charge even if they have forgotten to before heading to a site, allowing for charging on the road.
Additional safety
Beyond our shirts, vests, and jackets, we also carry some lighted apparel options that are supplemental visibility for workers and allow them to not only see better, but also be noticed more in dangerous workplace conditions. Examples of these added safety apparel options include our LED wrist light and the LED hard hat light band.
Although Nite Beams™ is focused on providing specialized products for low-light workers to improve visibility, the use of each of them is universal, always guaranteeing a safer work environment through Super Bright LEDs, reflective strips, and bright, noticeable colors.
There is a reason why so many have trusted Nite Beams™ products to provide their workers with guaranteed safety, and that is because of their unique, effective designs. By raising awareness of everyone around them, workers are made safer, even in the darkest of work conditions. Contact us today to learn more about our lighted apparel and start on an order to improve worker safety!