What is Personal Protection Equipment? Find Out Here!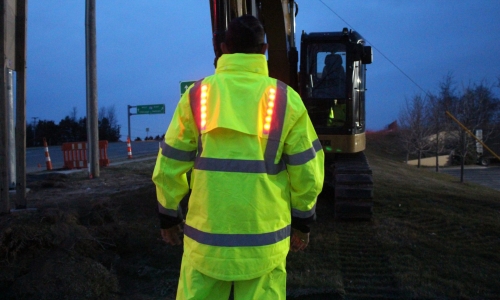 If you have ever asked the question "what is personal protection equipment," Nite Beams™ is here to help. According to the definition provided by OSHA, personal protection equipment is "equipment worn to minimize exposure to hazards that cause serious workplace injuries and illnesses." The equipment provided by Nite Beams™ does a great job of protecting workers from a variety of industries from any dangers that they may face while on a jobsite that is in low light conditions. We provide construction, law enforcement, and traffic workers with the safety equipment that they need to get the job done safely.
Safety from head to toe
With the different options available at Nite Beams™, workers can find personal protection equipment to provide them with full safety coverage from head to toe. From an effective LED Hard Hat Band to the Hi Vis LED Rain Pants that we offer, there are no shortage of options available to outdoor workers for ways to protect themselves while in low light conditions. Whether working inside a space that does not have ample lighting, working outside during late night shifts, or working in any other location where extra visibility is needed, Nite Beams™ products can help workers see each other better to make the workplace a safer space. And, because they are easily rechargeable and can easily be plugged in through USB, you can use them again and again with ease.
Tried and tested personal protection equipment
Because we at Nite Beams™ care about providing the best personal protection equipment available, we have carefully selected our inventory to make sure that our customers always get the safety equipment they deserve. With lighted apparel for all seasons, lighted accessories, roadside equipment, and more, there is no shortage of options available for those in need of quality safety equipment. When you want products from a source with years of experience providing personal protection equipment to different industries, you can trust the products from Nite Beams™.
With award winning equipment that meets, and even exceeds, industry standards, Nite Beams™ is your best choice for quality, dependable personal protection equipment. To ensure that your workers go home night after night without injury from unnecessary workplace accidents, count on Nite Beams™ to provide the extra visibility they need to always work safely. Contact us today to get started on an order for your business!