Workers Stay Protected and Illuminated with Lighted Apparel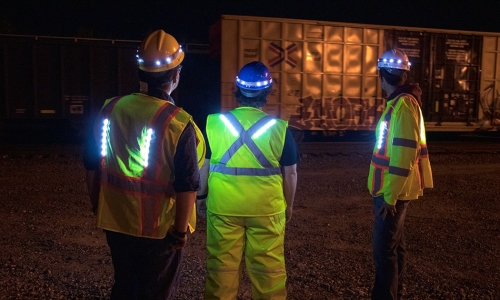 When considering equipment for a jobsite, lighted apparel can give workers both the protection and illumination they need to work at their safest during low-light conditions. Nite Beams™ is the premier provider of personal protection equipment that is designed to help workers that perform their tasks anywhere it is dark and need to be illuminated for the best safety possible. When you want protection and security on the job, think Nite Beams™.
Lighted apparel for any season
While working in low-light conditions outside, workers' lighted apparel should not only be comfortable, but also functional to keep them as safe as possible. For hot summer nights, we offer a t-shirt design as well as different break-away vests that can give workers the illuminated clothing they need without overheating on the job. For winter months, we offer heavy-duty jackets that can provide all the warmth a worker could need to safely stay warm and lit up through the long nights. Whatever your worksite needs, our team promises to work with you to find the best solution.
Protective accessories light the night
Beyond the main vest, shirt, or jacket that you may be wearing from Nite Beams™, you may also increase visibility and protection using the many accessories that Nite Beams™ has to offer. Two in particular  that we recommend for those working in construction are our Rechargeable Gloves or LED Hard Hat Band. These two products are designed with nighttime construction work in mind, giving an easy way to add extra light to your workers' outfit to allow other workers to see them easier on the jobsite, as well as any passing vehicles if they are working roadside.
From traffic control to night delivery personnel, there are a ton of great options available for you to take advantage of with Nite Beams™ products. Contact us soon to get started on an order!